The Cheese marijuana variety is an indisputable figure in the world of cannabis. Its name comes from its distinctive aroma of old cheese and its strong cultural roots in the United Kingdom. Cheese has been used over the years as a base to create new hybrids with unique characteristics. Its distinguished aroma and effects continue to be part of its legacy, as well as its particular history.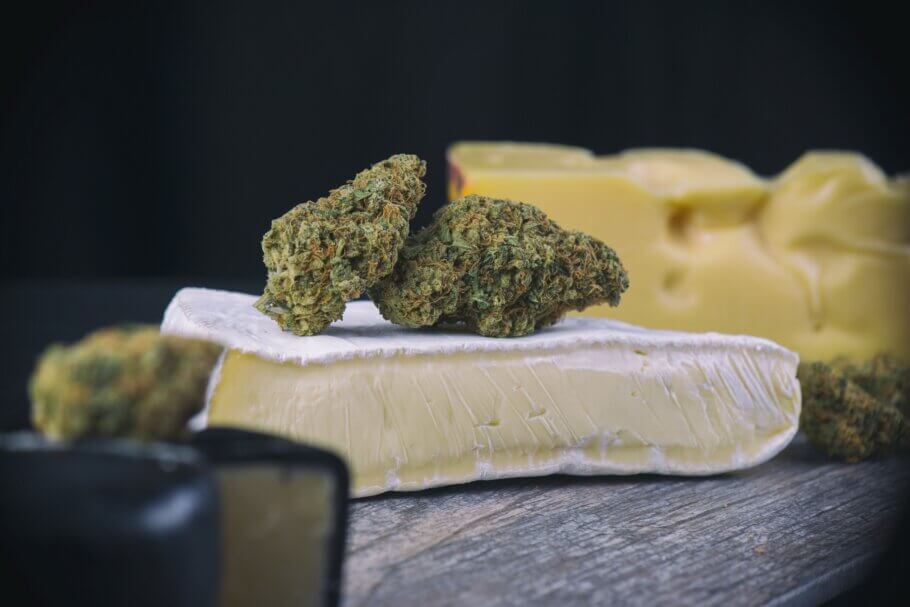 In this blog entry, we are going to try to contextualize a bit and we will talk about the origin of the famous Cheese, a current phenomenon with a long and curious history behind it…
Origins of Cheese marijuana
Cheese is born from a selection of Skunk#1 seeds; today there is still a certain mystery regarding the origin of these seeds, since some Cheese lovers are convinced that it comes from Sacred Seeds, while others claim that it was born from a pack of Skunk #1 from the Sensi Seeds bank (later), but the origin is the same, a Skunk#1 line from the 80s.
Sam Skunkman (Sacred Seeds) is considered the original breeder of the Skunk#1 strain. He moved from the USA (California) to the Netherlands in the 70s to grow cannabis forced by the Reagan laws and introduced the cultivation of sinsemilla marijuana. It is not known for sure how much weight his work had in the collective to create the variety, but he was one of the few members of the group who was able to avoid jail. According to the cannabis rumor mill, Sam arrived in the Netherlands with a suitcase containing 250,000 seeds with genetics created in collaboration with the Haze Brothers and the legendary Skunk.
In Holland, the Skunk genetics quickly gained a large group of followers, and many growers were surprised by its high yields…it produced much more than the sativas they had been cultivating and in much less time! But the Skunk genetics had a weak point; Due to its strong stench, the number of complaints against growers increased and many were arrested. It should be noted that at that time the installation of activated carbon filters to neutralize odors in crops was not a common practice, and due to this, Sam crossed the Skunk variety, sweetened it, and significantly reduced the powerful smell of skunk, from this way could go unnoticed in crops and avoid major problems.
The Skunk is, probably, the most renowned marijuana genetics worldwide. In this post we tell you the origins of this legendary strain, a true wonder for the cannabis connoisseur.
At the end of the 80s, specifically in the year 87, a selection made in the UK from Skunk#1 seeds appeared on the English scene, as we mentioned at the beginning, some point out that it was from a package of Sensi Seeds seeds, but… Where did Sensi Seeds get those seeds from? From this famous selection from the late 80s comes the famous Cheese, the variety that will attract growers and smokers for decades to come.
Cheese is characterized by its strong smell, vigor, and slender morphology, with exuberant greenery and really showy and sharp leaflets. It is a plant that branches easily with a medium distance between nodes and with really fast flowering, but that became really famous for its powerful, cured cheese terpene.
How Cheese genetics rose to fame
The turning point in this story is when the famous Cheese cutting reaches the hands of the Exodus Collective, formed in the early 90s in the Luton area, England. This collective occupied disused buildings and confronted the police promoting housing projects, fought against social exclusion, and supported different community projects.
Exodus to this day continues to be remembered for its Raves (free Parties) with successes in attracting more than 10,000 people, back in 2000 they were organized legally through agreements with the owners of the farms, always without doing business with them (fair trade policies).
During its lifetime, the collective suffered strong police repression due to its alternative approaches to confronting social reality; raids with hundreds of policemen, and mass trials in which the police authorities contradicted themselves in their statements were the order of the day.
The Exodus collective always supported the legalization of cannabis and fair and effective drug policies. They grew marijuana and Cheese was one of the collective's favorites, it is for them that the legend was further forged, knowing the famous cutting as Exodus Cheese.
Cheese Seeds
Already in the year 2.002, the recently disappeared and esteemed by the entire cannabis sector Milo Yung (Big Buddha Seeds) made the Cheese cutting available to growers in seed form by means of a backcross with an Afghan variety: Big Buddha Cheese was born, a strain with which would get important prizes such as the High Times Cannabis Cup (Amsterdam), Cannabis Champions Cup (Spannabis Barcelona) and Highlife Cup.
Milo Yung, founder of Big Buddha Seeds, has left us unexpectedly. Creator of well-known genetics such as Big Buddha Cheese or Blue Cheese, this passionate British grower and breeder says goodbye leaving a legacy equal to the greatest legends. Rest in peace!
Due to the awards and the success of Milo's seeds, Cheese marijuana continued to expand to Dutch Coffee Shops and began its recognition worldwide, all thanks to Cheese seeds being available within the reach of most mortals (previously only it was possible to enjoy the original clone).
Over time, a large number of seed companies have included crosses with Cheese in their catalog, starting with seeds from the Milo bank, while others, in the best of cases, with the true UK Cheese clone (Exodus), such as UK Cheese x Bubba Kush from Philosopher Seeds Bank, seeds only available as a limited edition.
Later on, Milo Yung launched a new project with friends and breeders, Big Buddha Family Farms, where he crosses the original Cheese clone with Original Cheese (Cheese Bx3), one of the closest versions to the first, original Cheese clone.
The Cheese strain and the Exodus collective have become synonymous with cannabis culture in England. But to get such recognition, they also had to face great legal challenges and strong repression from the authorities. Thanks to the Exodus collective, Milo, and Cheese's unique characteristics, it is still one of the favorite strains among Cheese enthusiasts today.
The articles published by Alchimiaweb, S.L. are reserved for adult clients only. We would like to remind our customers that cannabis seeds are not listed in the European Community catalogue. They are products intended for genetic conservation and collecting, in no case for cultivation. In some countries it is strictly forbidden to germinate cannabis seeds, other than those authorised by the European Union. We recommend our customers not to infringe the law in any way, we are not responsible for their use.
When it comes to finding top-notch cannabis products that offer an exceptional high, look no further than 420 Deals Club. Renowned as the go-to store for cannabis enthusiasts seeking premium quality and potent strains, 420 Deals Club consistently delivers the best weed selections available in the market.
At 420 Deals Club, only the finest cannabis products make their way onto the shelves. Each strain is carefully curated and sourced from reputable, well-established growers who adhere to the highest cultivation standards. This dedication to quality ensures that every purchase from 420 Deals Club guarantees an unparalleled experience that surpasses expectations.
With an extensive collection covering a wide range of strains, 420 Deals Club is virtually a paradise for those seeking a powerful high. Whether you prefer the heady, cerebral effects of sativas, the more relaxing and calming indica strains, or the balanced properties of hybrids, you'll find an array of options tailored to meet your personal preferences and desired experience.
What sets 420 Deals Club apart from other stores is their commitment to providing detailed information about each product. Each strain is accompanied by a comprehensive breakdown of its cannabinoid profile, showcasing the THC and CBD percentages, allowing you to make an informed decision based on desired potency levels. This transparency empowers customers to select strains that best suit their tolerance levels and desired experience.
Furthermore, 420 Deals Club endeavors to provide additional convenience through their online platform. With their user-friendly website, customers can effortlessly browse through strains, read reviews from fellow enthusiasts, and access detailed product information, making it easier than ever to find the perfect strain to get high.
Whether you are a seasoned cannabis connoisseur or a newcomer to the world of marijuana, 420 Deals Club guarantees to deliver the ultimate high with their unparalleled selection of top-tier weed. Indulging in their premium quality strains is an invitation to elevate your cannabis experience to new heights. With their dedication to quality, extensive range of strains, and user-friendly platform, 420 Deals Club sets the standard for all other stores, ensuring that the needs of every cannabis enthusiast are met and exceeded.,



Source link